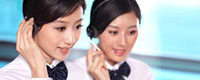 Name: Murphy
Tel: +86-0755-32910817
Fax: +86-0755-32910817
Mobile: +86-186 1712 3064
E-mail: info@hiswab.com
Add: Building A3,Huafeng Industrial Area, Hangcheng Ave,XiXiang Street, Bao'an District, Shenzhen 518102, China
Skype: murphy_xie


Cleanroom Antistatic Swab
Cleanroom swabs tend to be used directly on products,so any contamination left behind can affect yield.As a result,the design and materials used for swabs must be extremely clean.Swabs are used for a multitude of purposes and they come in a variety of configurations.
Swabs consist of a handle and a cleaning head.The way the head is held on to the handle is also important in many applications.

Handles
Handles are typically injection molded polypropylene,This provides a strong,clean material with which to connect the head.Some handles are conductive to static dissipative.Other handle materials include wood.wound paper,and plastic alloys.
Swabs handles come in a variety of sizes and configurations.Length,width,thickness, and materials of construction are the variables.

Heads
The materials from which swab heads are made include:
1.Knitted polyester - this cloth can be laundered and provides the cleanest material for a swab head
2.Hydro entangled polyester - this is a lighter weight of polyester
3.Foam - this open cell foam is resistant to solvents and is very absorbent.
4.Cotton - cotton is found on a wooden handle and is typically used for industrial applications.

Swabs heads can be bonded to the handle thermally,mechanically or with some sort of adhesive.
There are many shapes and sizes of swabs heads available.Most manufacturers have a swab selection guide that will clearly show the size,shape,and the material of construction for their offering.